Our baby girl is ONE!!
Long ago (I'm pretty sure I was still on maternity leave!), I started tossing around the idea of a bumblebee theme for our little bee. I never changed my mind.
Welcome to Quinn's first birthday party!
The birthday girl in her pillowcase dress made by
ThePolkaDotLollipop
on Etsy. She already had the leggings, one of my favorites in her wardrobe.
I ordered the Bumble Bee Collection from
tomkatstudio
on Etsy -- printable invites, party circles and door sign.
I love these easy balloon garlands -- balloons strung together with a needle and fishing line.
I kept the table centerpieces simple with white runners and a mixture of white flowers in a Mason jar and hung ribbon garlands from the chandeliers in the dining room and kitchen.
At a first birthday, I love seeing how the baby changed over the first year. To display Quinn's first year photos, I covered a large piece of foam board with spray adhesive and fabric.
I found a yellow gingham for $4.99 a yard and used a 40% off coupon at Hobby Lobby. I freehanded a few templates for the black frames out of cardstock and then just hot glued the photos and the frames to the board. I found the big Q at Michael's for just a few dollars.
Little closer view. I couldn't resist adding the yellow bucket newborn photo. How was that just one year ago?
I love how it turned out! Now I'm not sure what I'll do with it. Hrmmm...
On to the food! That's what parties are all about, right?
We had the goodie table setup with all different kinds of yellow and white foods. Chocolate dipped marshmallows, Classic Lays potato chips, butterscotch candies, cupcakes, Lemonheads, Lemon Drops, Powdered Sugar donut holes, Pirate's Booty, Archway Frosty Lemon Cookies and mini Butterfingers.
We also ordered BBQ for the main meal from our favorite local place. We had lemonade and a variety of beers to drink.
My mama made another fabulous birthday cake!
My cousin Jessica traveled all the way from Washington, DC to celebrate our girl.
Quinny sneaking a peek at one of her presents!
Big brother is still trying to wake up from his nap.
Time for cake! Doesn't she look thrilled? She's a happy girl, but she's not usually willing to give smiles to just anyone. She makes you earn it! Having everyone staring at her made her quite suspicious.
Since she loves to eat, I thought she would tear into her cake. Instead, she was quite dainty about it. At least she ate her first cake, unlike her big brother.
I changed her clothes because I thought she would make a mess, but she didn't.
Time for presents!!
She opened most of her gifts from her "throne", the pink chair given to her by her Great Aunt Ruthie and Great Uncle Steve. 
Me with my birthday girl:
And, another fabulous family photo. One day we'll all happily look at the camera at the same time!
We had a great time and I know Quinn enjoyed herself too! May is an exhausting month around here and it's nice to be done with parties for a while.
I'm linking up to: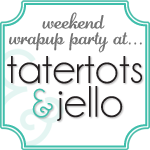 Tip Junkie's 5th Birthday Bash