Our little man is 3 today! We had a construction theme for him this year, per his request. Well, his actual request was for a "Doug the Digger" aka excavator party. Like most boys his age, he is OBSESSED with construction equipment.
I found these larger signs at a local party store. For anyone in the area, it's the Party Tree in Carmel :) All of the smaller signs were made by my friend, Jessica.
Welcome to the party!
The dining room with paper lanterns, balloons, and cardstock streamers from the ceiling:
The roundabout (traffic circle) table runner made by Jessica:
He woke up from his nap right when the party started :)
We did the same ceiling decorations in the kitchen. When Tyson saw them on Friday night he said "mama, I LOVE them!". Swoon.
The "goodie table" as Tyson called it:
I used orange, brown and yellow foods for the goodies. Cupcakes, yellow and orange chocolate covered Oreos, orange slices, lemon drops, chocolate covered peanuts, chocolate covered raisins, Reese's Pieces, Mini Reese's Peanut Butter Cups, cheese puffs and Munchies mix.
These cupcake toppers were made by
Pixels4Partys
on Etsy. She is the most affordable seller of cupcake toppers I've seen!
Tyson enjoying his plate full of goodies:
Dump truck cake made by my mama:
Waiting patiently to blow out his candles:
Daddy and Mama with the birthday boy:
Crazy family picture. I'm sure anyone with little kids can relate -- one kid cheesin' it up for the camera and the other one with her tiny little hands on my necklace. I'm pretty sure this is the only picture that Quinn doesn't have my necklace in her mouth.
Little sister getting in on the birthday present opening.
Since his party was on Cinco de Mayo, we had a Qdoba bar. Best idea EVER. I don't think I'm going to worry about making tons of party food again. It was just too easy to order it and have everything ready.
Tyson had a great time and we had lots of fun as well.
Did I mention that I'm the mama of two May babies? We'll be doing this again in 2 weeks!
I'm linking up to: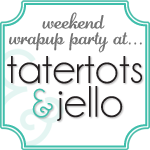 Tip Junkie's 5th Birthday Bash