Hi Friends! Happy New Year!
Wow, it's been a long time since I've blogged. :blushes with embarrassment:
Like many of you, December was a busy but fun month. We went to and hosted way too many parties, spent lots of time with our babies, enjoyed quite a bit of family time and even had our first two (big!) snowfalls. Oh, and we both worked in there too. I feel like I've been on a month-long whirlwind! Despite all of the busyness, it was so fun to experience Christmas through the eyes of my children. I'm grateful for January's arrival and for things to slow down a bit.
I'm ready to move on (and find the time!) to complete some home and party-related goals for 2013.
1.
Revitalize our fireplace.
Our fireplace looks very similar to the one below, except our brick is redder. This project has been tossed around for a while, but I'm hoping to actually do something about it. And soon. I'm pretty sure we'll be using the basics of
Layla's tutorial: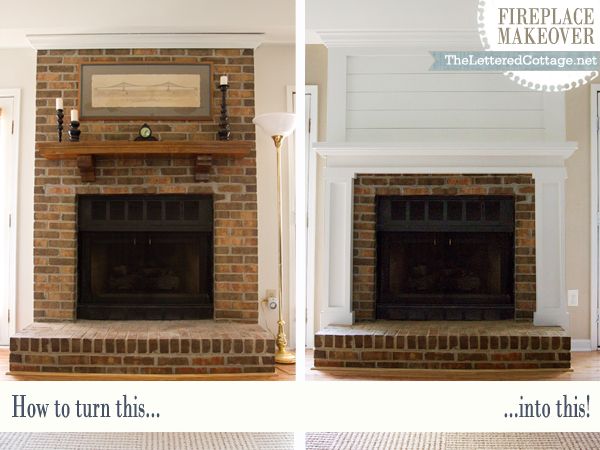 Source: The Lettered Cottage
2.
Finish our home office.
Even though we moved into our house six years ago, the office (on the main floor) has continued to fall by the wayside as far as projects go. I'm ready to get it done and organized! It's going to be quite the project -- including built-in bookcases, but since
we've tackled built-ins before
, I'm confident we can do it again. I'm hoping to start this project in March.
3.
Wrap up the basement
.
Last year was the big year for our basement and while it's functional and pretty much finished we still have a few little projects to tackle. Those little projects include hanging some art on the walls, ordering prints of pictures and touching up paint in a few spots. You know, the stuff that gets put on the back burner after you endured a long renovation.
4.
Organize our spaces
.
I know this is a New Year's Resolution for many, but items have a tendency to get stashed in our house. I need to do a better job of finding homes for items instead of stashing them. Yesterday put us off to a good start with organizing our Christmas decorations!
5.
Redo the kid's bathroom
.
I have
ideas flowing,
but I just need to buy the paint and make it happen.
6.
Finish the projects I start.
I'm pretty bad about this, but when I commit to something and buy the supplies, I need to finish it!
7.
Big Girl Room.
This makes me happy and sad at the same time. Our baby girl will be two in May and I'm guessing that a big girl room isn't far behind. We already have her bed, but it will need to be painted and I'm sure some new bedding and accessories will be necessary too :)
8.
Closet organizers for the kids' closets
.
Our kids have nice walk-in closets in their rooms but there is no organization in them. We need to make a better space plan for both of them and get it executed. Clutter is starting to overwhelm us all!
9.
Plan a joint birthday party.
My kids have birthdays 11 days apart. While it was fun hosting
two birthday
parties in
two weeks
, I think we're going to go all-out on one big birthday bash for both of them this year. I have some ideas in mind and if I can pull it off, it's going to be a lot of fun!
10.
Paint our kitchen cabinets.
This is a big one and another idea we've been tossing around for a while. I'd say out of all of the items on our list, this is the least likely to get done, but I really want to do it.
Phew. That is one long list, but I am hopeful that I can get some of these projects tackled in the new year!
What are your home goals for 2013?